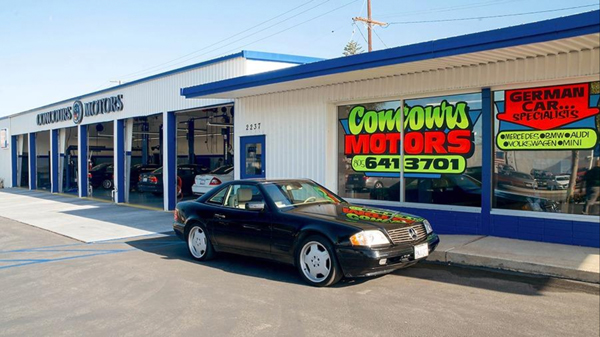 European Car Repair in Oxnard, California
The city of Oxnard is in the heart of Ventura County, as it is between the city of Ventura and Camarillo. This town is known to be a beach community with landmark beaches throughout the city with the exception to be also known as an agricultural community with fields of all over the city as well. Oxnard is known as being the filming location for a number of movies such as Back to the Future and Bridesmaids. The city is most well known for the California Strawberry Festival, which draws thousands from all over California. Downtown Oxnard is home to various specialty shops, over 40 international restaurants and lots of historical landmarks. Heritage Square in Oxnard has fifteen beautifully restored Victorian homes and is home to Heritage Coffee & Gifts, one of the best coffee shops in town.
A popular road that transitions to a scenic highway would be the PCH, going southbound towards Los Angeles and also going northbound towards Santa Barbara. Going north, along the way is Concour Motors in Ventura. Not too far from Oxnard, the drive would be worth the visit to our shop but also to rely on our services on European cars, you won't find any other shop like ours.
Trusted Auto Repair Shop in Ventura
When Oxnard residents need their cars repaired or maintained, they come to Concours Motors Auto Repair in Ventura. To get to Concours Motors Auto Repair from Oxnard, get on US-101 N from S Oxnard Boulevard. Stay on the freeway for six miles, then take exit 68 for Seaward Avenue. Keep right at the fork and merge onto S Seaward Avenue. Turn left onto US-101 BUS, then turn right, and finally turn left again. We will be on the right, at 2237 E Thompson Boulevard.
We at Concours Motors Auto Repair can take care of your car, bumper to bumper. We've been fixing cars since 1982 and our technicians have decades of combined experience and are experts in all things auto repair. Some of our auto repair services include auto electrical repair, factory scheduled maintenance services, brake repair, tune-ups, tires and wheels service, interior/exterior body services and oil changes.
We specialize in all types of makes, including BMW, Mercedes-Benz, Volkswagen, Audi, Mini Cooper, Land Rover, Volvo, and Dodge. We are your alternative to the dealership; we are just as efficient and skilled as the dealership for a better price. Here are some reasons why you should choose Concours Motors Auto Repair in Ventura:
We have serviced over 92,000 vehicles and counting.
We have a review score of 99.3 based on reviews from over 5,100 satisfied customers.
Most of our services come with a 2 year/24,000 mile warranty.
At Concours Motors Auto Repair in Ventura, an ASE-Certified technician will perform all your auto repairs, whether minor or major. We stay current on technology while utilizing modern, cutting-edge equipment to complete every job accurately. From new brakes on your BMW 2 Series, to a routine oil change on your Mercedes-Benz GLC-Class, to in-depth transmission work on your Volkswagen Tiguan and all else, you'll always get the same superior workmanship you'd find at a dealership.
No matter what make or model you drive, we know you need it to start up and take you where you need to go without question. For long-lasting results, we always use original equipment or high-quality parts in all procedures at Concours Motors Auto Repair.
If you are an Oxnard resident, don't hesitate to schedule an appointment with Concours Motors Auto Repair in Ventura today. You can do so online at https://www.concoursmotorsventura.com/contact-us/ or give us a call at 805-290-1490. Concours Motors - Dependable. Trustworthy. Affordable.